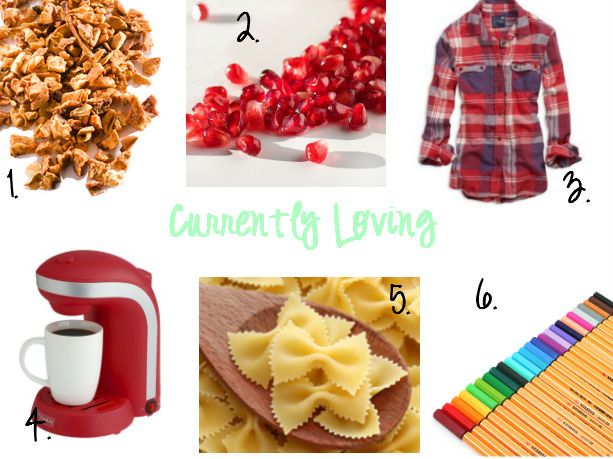 1.) I've really been into tea as of late, it's quite crazy. Although I haven't acquired a taste for black tea and green tea, I've really been loving herbal teas and fruit teas! I'm thinking once I get home for break, I'll try out some more tea, but for now, I'll be sticking with what we have in my dorm.
2.) You may have noticed I have a slight obsession with pomegranate as of late. It's probably because I haven't had a lot of pomegranate these last two years and I'm making up for it. I've posted a recipe for a
pomegranate, craisin spinach salad
, and this week I'm thinking of making some pomegranate infused lemonade!
3.) I'm not a huge fan of sweatshirts, and I do not own as many comfy knit sweaters as I would like to… but I do have the most comfiest flannel shirt ever!
4.) My dad got me a single serve coffee maker from Target on Black Friday, and I could not be any more grateful. I wake up to a nicely brewed cup of coffee every morning, and at night I use it to make some tea. Thank you dad!
5.) I think I finally figured out my favorite type of pasta: farfelle! I love the
shape
and it's in all my favorite pasta recipes! I'm thinking once finals are done, I'll be making a
single pot lasagna recipe with farfelle
! Should be delicious.
6.) Stabilo markers are the best markers ever! I've had my markers for two years now, and they brighten all of my notes up. Seriously get them if you can! (I got mine from Amazon, in case you're wondering...)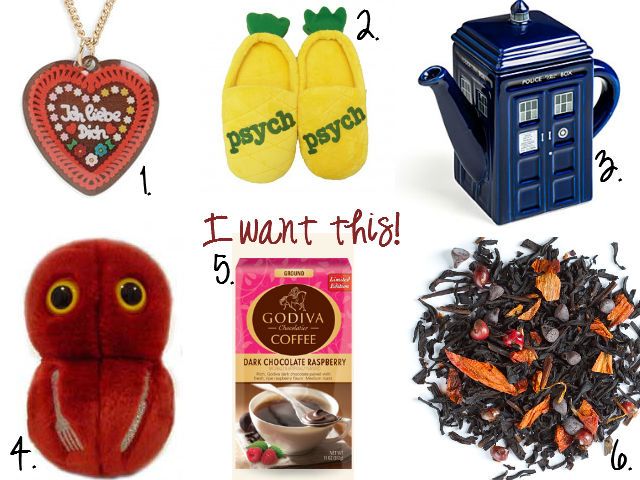 1.)
This necklace
combines two of my favorite things: German and cookies. I instantly fell in love!
2.) As a proper Psych-o and pineapple fanatic, I require
these
.
3.) With my new found love of tea, I believe this
TARDIS
should materialize into my hands… no?
4.) I already own two of these
plushie microbes
, but I really want more. Specifically this one!
5.) I love Godiva's coffee, and I love Godiva's Dark Chocolate Raspberry truffles… so I'm almost certain that this is what dreams are made of.
6.) Has anyone heard of
Dave's Teas
? This company has so many unique blends of tea! I kind of want them all. But to start, I think I'll try this chocolate chili chai tea!
I hope everyone's had a good week! :)
-- Sheilly