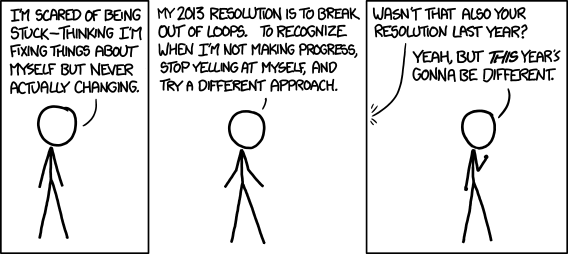 I suppose I should have written this yesterday? Oops.
My goals for this year:
Take the 365 challenge! A lot of bloggers have done it before, and I think it's a fun idea! So far I'm two pictures down!
Start the Couch to 5K challenge! It's not so much to lose weight, as it is to become healthier and enjoy running!
On that note, continue eating more organic healthier food! I started this semester, and I feel so much better already. I haven't gotten sick at all, and finding new recipes is so much fun as is using fresh ingredients to make everything with. :)
Read a little more for fun. I went 2012 reading three books for fun. Three. THREE. Unacceptable! I'm definitely changing that this year.
Explore a little more. Find new places, take more pictures. Escape!
Write about everything. I've always found writing helps me remember things more, and since I've started this blog, I know my favorite memories have been immortalized, and I can't wait to see how much more I can share!
2013 is going to be exciting for me, and I can't wait to do more of these as the time comes! What are your aspirations, goals, resolutions for this new year? :) -- Sheilly